A
According to the production processes, stainless steel tubes divided into seamless tubes and welded tubes.
The raw material of seamless steel tube is the round bar billets. Its production techniques are hot rolling and cold drawing.
Production processes of hot rolling seamless stainless steel tube : round bar billets →heating→punch the hole→three roll cold cross rolling, rolling in succession and extruding→sizing→cooling→hydraulic testing→marking→warehousing
Production processes of cold drawing seamless stainless steel : round bar billets→heating→punch the hole→annealing→copping plating→multi-channel time cold drawn→parison tube→heat treating→hydraulic testing→marking→warehousing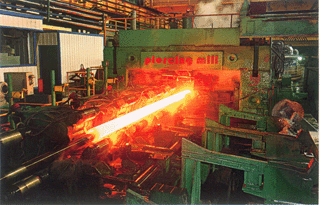 Stainless steel welded tubes are formed by stainless steel coil through the unit and mold of welding machine.
Production processes: Coil-slitting→forming-welding→weld the seam inner & external →polishing & fixing→fix the diameter and cuted by saw→press test→pickling→marking→warehousing.